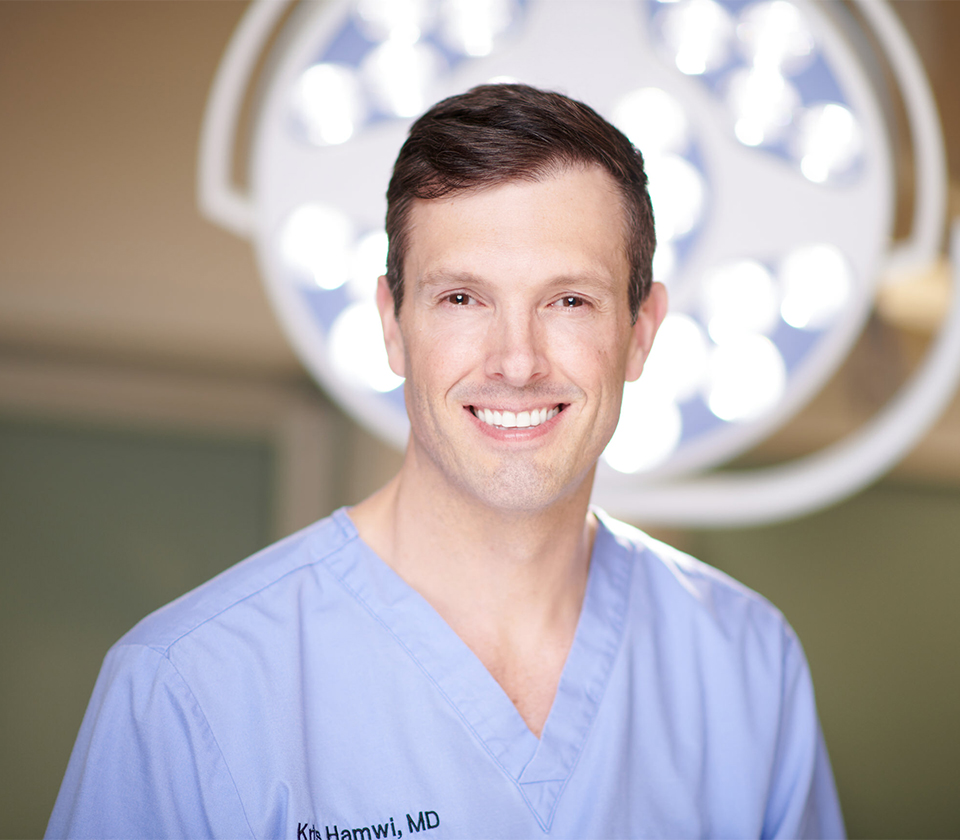 About Kristopher Hamwi, MD
Helping People Feel Their Best
Dr. Kristopher Hamwi is a double board-certified plastic surgeon practicing out of Sarasota, FL. His specialties include liposuction, tummy tuck, blepharoplasty, breast augmentation, facelift and more. Dr. Hamwi has trained extensively at some of the world's finest institutions in pursuit of the best surgical and non-surgical aesthetic techniques.
In addition to his considerable training and knowledge, Dr. Hamwi is also an artistically-minded individual who is committed to improving his patients' lives. Dr. Hamwi's ultimate goal is to help his patients feel confident in themselves and their appearance through aesthetic plastic surgery. Partnering with Dr. Hamwi means you can expect the very best service, results, and overall experience. You can learn more about Dr. Hamwi's philosophy, qualifications, and more by following the link below. 
Read More
Innovative Techniques
Dr. Hamwi has studied with some of the country's most renowned plastic surgeons and has operated on patients from all over the world. Throughout his ten years of training, Dr. Hamwi has mastered some of the most innovative and up-to-date techniques in the industry. Furthermore, Dr. Hamwi's unyielding commitment to his patients' satisfaction has prompted him to only choose treatments that work. Everything offered at Florida Plastic Surgery is science-backed and proven to be effective. Dr. Hamwi has techniques and technologies that minimize the appearance of scars that most surgeons aren't routinely using.
Dr. Hamwi uses the Keller Funnel for his breast augmentation patients by utilizing the "no touch technique" to minimize the chance of infection and capsular contracture.  This reduces the handling of the implant and therefore the potential transfer of bacteria or contaminants during the operation.
Dr. Hamwi offers a range of implants that differ, not only in their size and projection, but also in their level of cohesivity.  This allows patients to individualize not only the size of their breast, but the amount of upper pole fullness.
Feeling Beautiful At All Ages
Feeling Beautiful At All Ages
Testimonials
"After years of research and countless consultations, I finally met with Dr. Hamwi. Dr. Hamwi sat with me and answered all my questions honestly, not just telling me what I wanted to hear. His before and after pictures depicted the exact type of plastic surgeon I was looking for. He is an artist. He listened to my needs and wants. Dr. Hamwi educated me and gave me realistic expectations. His bedside manner is not that of a "typical" surgeon. He is warm and patient. I am now 1-year post facelift and I can't even express how extremely happy I am. Dr. Hamwi exceeded any expectations I had. I feel young and vibrant inside and now my face (and neck) matches that energy."

Dr Hamwi is the best of the best.
- Dora
"Dr. Hamwi is the epitome of all one would expect in a physician; knowledgeable, experienced, caring, and gentle. He has always given his time and attention generously, so I fully understand the procedure and spends whatever time you need to ask questions. The results of this surgery are absolutely phenomenal!!! I appreciated the attention and detail that he gave me from the start of my procedure until the end. My waits have never been this small and the new curves and shape to my hips and back area are wonderful. I highly recommend Dr. Hamwi to anyone who is considering to do a cosmetic procedure, I couldn't be happier!"
- Liz E.
"My results are beyond what I expected. Dr. Hamwi and his assistant Chelsea were really great! I was totally at ease going into surgery. Wow, my arms look so good! At 2 weeks post-op my arms look so skinny! My arms weren't this thin even when I was 60lbs lighter. Recovery has been fine. Dr. Hamwi is really personable and a master at giving me celebrity arms."
- Precious
We'd Love to Hear from You!